asakiyume
Did you ever play the authors card game? We had this when I was a kid: 13 authors--a pretty random assortment of 19th-century English and American writers, all men with the exception of Louisa May Alcott--with four works for each author. You play it like you play Go Fish, with the goal being to get as many completed sets of authors' works as possible. Wakanomori and I enjoyed playing it the other day, but I thought it would be fun to make up a set of YA fantasy works.

osprey_archer
is visiting, and we created a set. It's a fairly random assortment, only two male authors (CS Lewis and Lloyd Alexander), and two authors I follow here one LJ/DW (that would be

sartorias
and

pamaladean
). The authors had to have four works or series of works; we tried not to list individual works in a series, and we decided all the works should be fiction.
The original Authors game features portraits of the authors...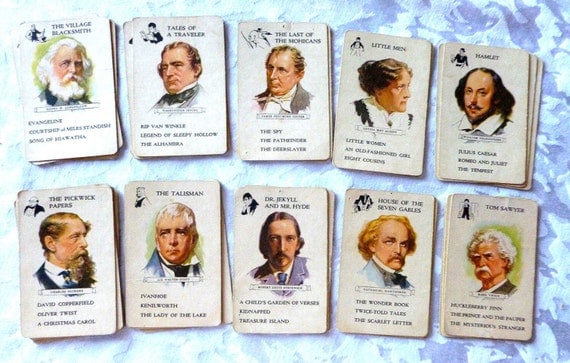 But we are not good at portraiture, so we used symbols for each author.

sartorias
, you're a fan!

pameladean
, you're a sprig of rosemary!
(click through to embiggen)
Just now

wakanomori
,

osprey_archer
, and I played it. Very satisfying!